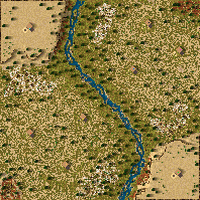 Map size: 400x400
Number of players: 8
Eight castles lords in the Rocky Valley are divided by the river. One can play this map from games 4 vs 4, but it can be played in many other ways. It's going to be quite challenging to play with no ally on this map, as it's going to be somewhat hard to defend your industry and your villagers outside your castle.
I hope you're gonna enjoy the map!
I should also thanks to
Duc Vautour
, as without him there wouldn't be this map.